Natural Future of Cosmetics- NACO
The NACO project aims to support rurally based cosmetics companies predominantly in the Kerry region whose products utilise natural extracts. This initiative is intended to drive industry engagement and network development and deliver training events. The project is a collaboration with the University of Oulu in Finland and is funded by the North, East, and West Kerry Development (NEWKD) LEADER Rural Development Program.
Overview of the European Union Cosmetics Regulations Products, Wednesday 14 September 11 am-1245pm
Join this online event to find out more about European Union Cosmetics Regulations.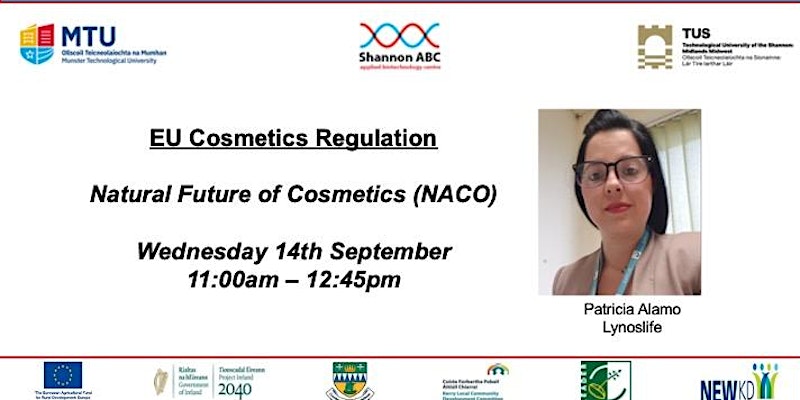 The Natural Future of Cosmetics (NACO) team at Shannon ABC and MTU Kerry are delighted to welcome Patricia Alamo to provide an overview of cosmetics regulation as part of the NACO project. This event will help cosmetic SMEs understand the EU regulatory framework in the cosmetics sector.
Areas covered will include:
Cosmetic Regulation (EC) No 1223/2009
• Product Information File (PIF)
• Labelling requirements
• CosIng – Annexes – CMR
• Claims
• Rapex
• Introduction to the UK Legislation
To register for this event, please click here.
Patricia Alamo – Senior Regulatory Officer – Lynoslife
Patricia obtained a bachelor's degree in Pharmacy – Cosmetic field at the "Central University of Venezuela" in 2008. In 2012, she got a master's degree in Science and Technology in Cosmetics. She worked in Venezuela as a formulator at Lemua Cosmeticos (2008 – 2012) and Ponce & Benzo (2012 – 2014), In 2014, Patricia then joined Jordan Cosmetics as a Technical Director – Research and Development. At Jordan Cosmetics, she oversaw internal audits, GMP training, and R&D projects. In October 2017, she joined Cosmetic Creations in Mayo (now Lynoslife), as a formulation chemist, in 2018 she became a Senior. At Lynoslife she worked with tanning, skincare, and hair care products. In this role, she has been involved in creating formulations, carrying out stability and compatibility tests, compiling product information files, and researching new raw materials. Patricia has a wealth of knowledge in cosmetic trends.
In 2021, she obtained a Cosmetic Safety Assessor Certification from RWTH Aachen University in Germany, then her role changed to Senior Regulatory Officer at Lynoslife. She manages artwork required information, product information files, safety assessments, cosmetic product notification portal, claims, and callouts for the products working together with the Marketing team. She also supports the R&D department with her lab work and toxicology background.
Shannon ABC has worked with SMEs based in the cosmetics sector for 10 years, assisting them with product development, ingredient selection and screening, access to funding and strategic development. As a Technology Gateway, we are aware of the cosmetics ecosystem and challenges that cosmetics companies face, in particular small companies who base their products on natural extracts. We will use our cosmetic sector expertise alongside our track record of working with companies, to identify and address the industrial needs of rurally based cosmetic companies in both Ireland and Finland. 
It can be challenging for small companies to have expertise at all stages of the cosmetic development process; therefore the delivery of the NACO project by Shannon ABC will help SMEs to navigate and access the support that they require at all stages of the process.
The NACO project will offer cosmetics companies the opportunity to take part in networking events, training programs and innovation support activities. Events will focus on areas such as research and development, funding opportunities, formulation and regulation. Companies will also be offered the opportunity to access facilities and expertise in the University of Oulu, in addition to the available expertise in Shannon ABC in MTU Kerry, which includes cell culture and efficacy testing.
NACO Project Team:
Project Lead: Dr Niall Burke
Network and Innovation Support Officer: Dr Aoife Curran
Project Advisor: Dr Joanna Tierney
For more information on the NACO project, please contact Dr Aoife Curran at aoife.curran@mtu.ie